About Lactation Counselor Training
Lactation Counselors have the opportunity to make a real difference to the families they work with. Childbirth International's accredited lactation counselor training will enable you to assist clients to overcome feeding difficulties, building a close relationship with those you are working with, and knowing that with your support, you can help a parent and baby gain the benefits of human milk. Whether you want to become a Lactation Counselor on its own, or take your first step towards the IBCLC certification as a Lactation Consultant, this ANCC accredited course will provide you with the knowledge, tools, and skills to achieve your goals!
Being a Lactation Counselor brings you into a family at a time when they may be struggling. Whether you're helping a new parent learn how to latch their baby on, or working intensively someone who's trying to overcome mastitis, your role will be a crucial one. At CBI we make sure you have a thorough grounding in all these areas and more. You'll also have support and guidance from your trainer, and from our network of lactation counselors around the world.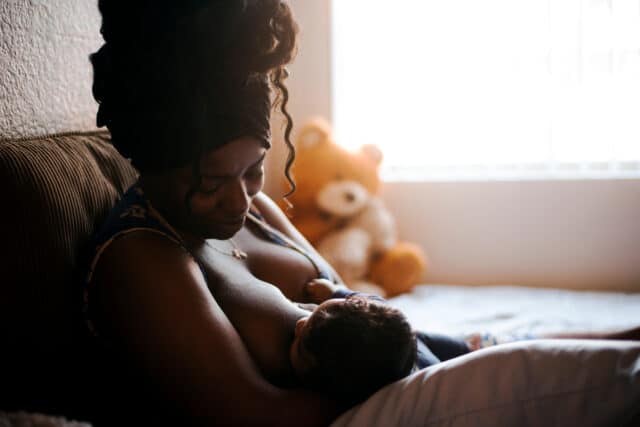 Much of your work as a Lactation Counselor will be listening to the clients you work with and truly supporting them. As a student, you'll develop strong communication skills, learning the important skills of reflective practice, and effective and active listening. During this online training program, you will develop strong skills in using the counseling process to help clients feel supported and heard. You'll also cover all the business aspects – how to build your client base, paperwork, forms and legal issues, advertising and promoting your business.
On our popular public Facebook group, you can learn more about the options for Lactation Counselor training and certification from other counselors who have chosen various programs: Becoming a Lactation Consultant Facebook Group.
Choose an Accredited Training Organization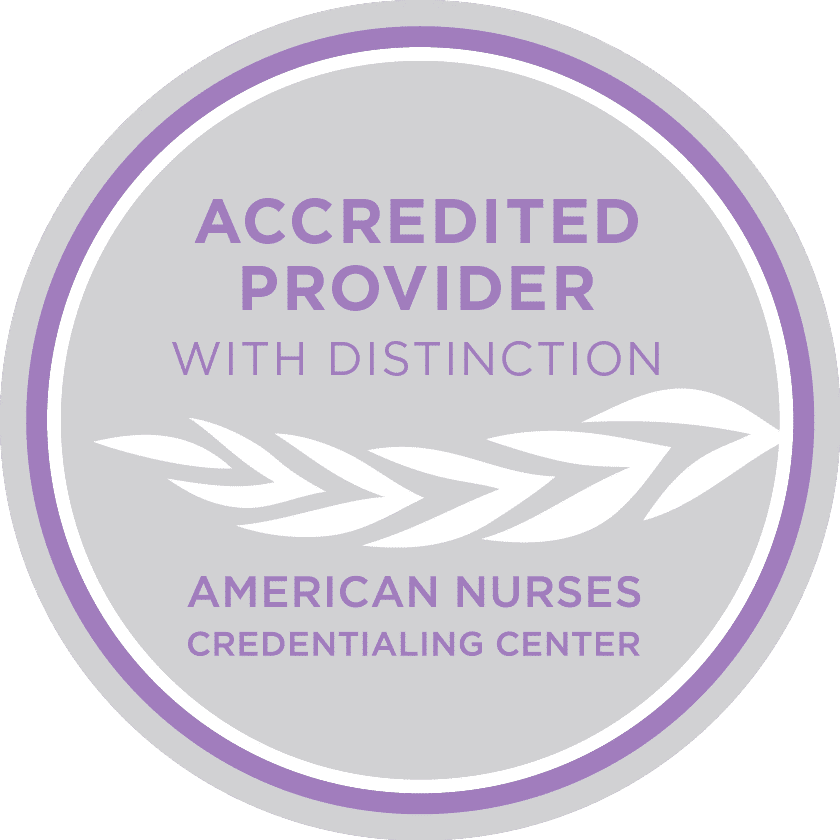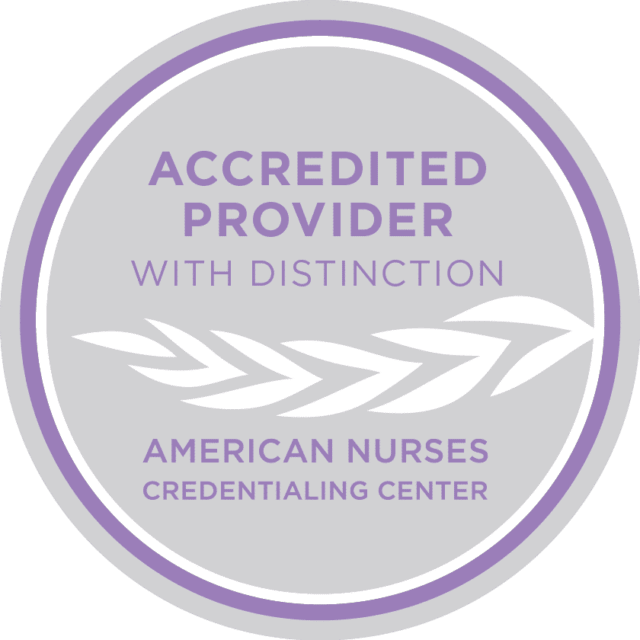 Choosing CBI means choosing the highest standard of training. CBI is the only birth and lactation professional training organization worldwide to be accredited with distinction by the American Nurses Credentialing Center (ANCC), recognizing the quality of CBI's training programs.
ANCC accreditation recognizes the quality and robustness of CBI's training programs and the professionalism of the curriculum. All CBI courses are designed to be delivered online, using best practices for online training. Unlike a workshop where you can only touch the surface of everything you need to know as a birth doula, your CBI training will let you dig deep into topics important to your work. And your trainer and fellow students will always be there to answer your questions and guide you through any challenges you face.
Compare Lactation Training Programs
We know that choosing a training provider can be confusing when they all seem to have different requirements and different pricing structures. To make it easier for you to make a comparison, we have put together a helpful chart for you to compare CBI to other certified lactation training programs.
If you are unsure whether becoming a lactation counselor is the path you would like to take, we have a mini course to help you understand the options available to work as a lactation specialist, options for studying lactation, and whether you want to pursue IBCLC accreditation. The course is available on a 'pay what you can' basis ($5-$25) and you can get started on it straight away.
Read more about the Becoming a Lactation Professional mini-course.
Straight-Forward, Upfront Pricing
You won't be asked to pay membership or certification fees, your certification is for life, and there won't be any extra fees. You won't have the additional costs for attending a workshop, like accommodation, travel, and childcare. To make the course more affordable, you can choose to pay it off over five months and still have full access to all your course materials from day one, or pay in one simple, single payment. If you buy more than one certification course at the same time, we'll say thanks by giving you a 15-25% discount, and as a student completing training and certification with CBI, you'll always have a 15% discount on any future courses you buy. Read more about our course discounts.
Risk-Free With a Full Refund Option
Deciding to join us on your journey to become a certified lactation counselor is risk-free. If you decide this course isn't right for you, email us within 48 hours of registering, and we'll give you a full refund, no questions asked. You can read our refund policy for details.
FIVE PAYMENTS
US$215/month
Five easy payments
Immediate course access
Buy printed manuals at end of the plan
Admin fee ($10/month included)
ONE PAYMENT
US$1,100 + shipping
One single payment
Immediate course access
Printed manuals sent immediately
No admin fee
RECOMMENDED
GO GREEN!
US$1,025
One single payment
Immediate course access
Use web or app
Gentle on the planet!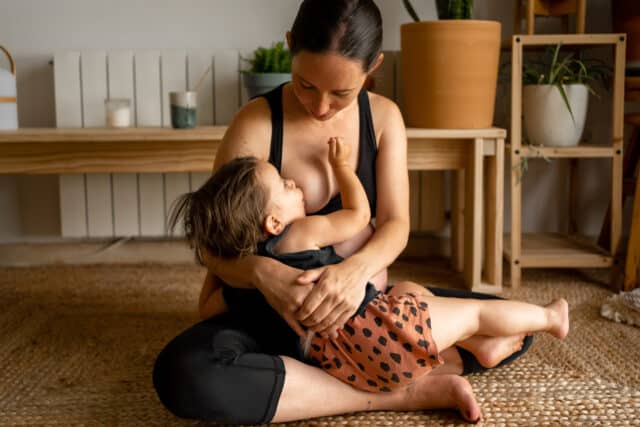 Whether you're helping a new parent latch their baby, teaching lactation classes, or supporting someone to overcome lactation challenges, your role as a certified lactation counselor is a crucial one
Easy to Understand Lactation Counselor Certification Requirements
To become a certified lactation counselor with Childbirth International, you'll submit assignments and complete exams. Once the requirements are completed, you'll be awarded a certificate showing you are a Certified Lactation Counselor. There are no additional costs for certification and your certification is for life. We want to make sure that the work you do for certification is relevant and useful to you. We won't ask you to have medical caregivers evaluate you, or have you read extra books. Every requirement is designed to build on your knowledge and skills and give you a deeper understanding of your role as a lactation counselor. The requirements for becoming a certified lactation counselor with Childbirth International are:
Set personal goals for communicating with clients and caregivers
Critique two videos for bias and evidence
Analyze case studies on reflective practice, physiology, and counseling skills
Complete online, open-book exams (between 10-20 multiple choice questions in each) on physiology
Survey the lactation support options available to clients within your community
Work with clients providing lactation support for 30 hours (in-person or virtually)
Reflect on your role and the skills you used when working with clients
Once the requirements are met, you'll be awarded a certificate showing you are a Certified Lactation Counselor. There are no additional costs for certification, and your certification is for life.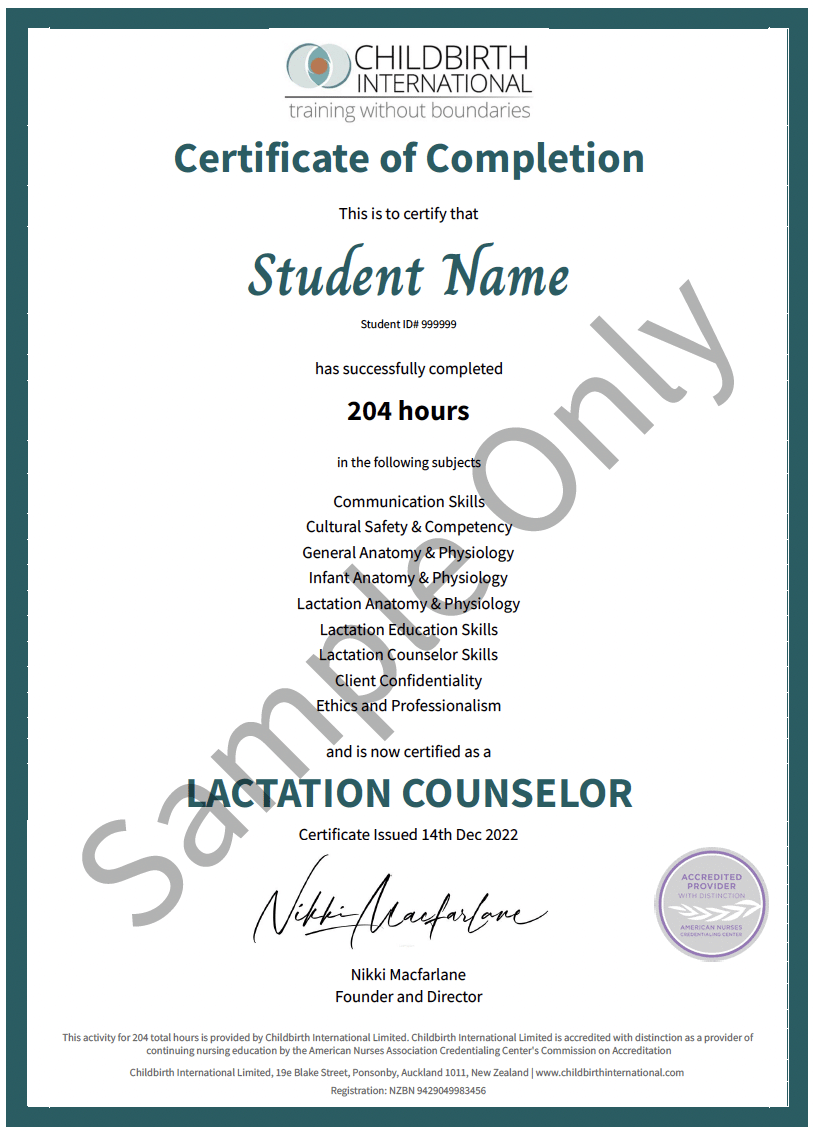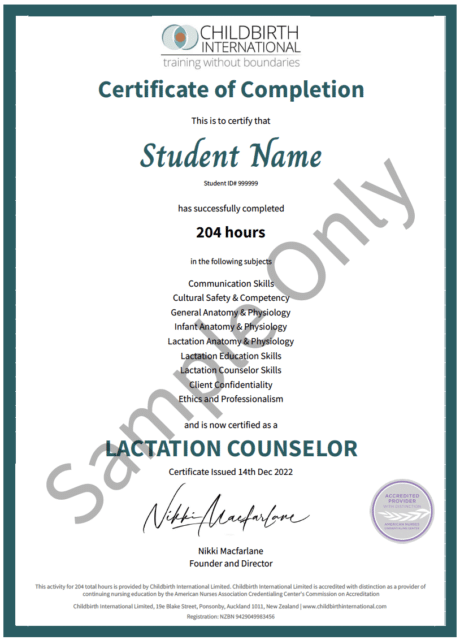 Whats Included in Your Lactation Counselor Training
We want to make sure you feel prepared and confident in your role as a certified lactation counselor. Every client you work with will have different needs but all of them will be looking to you for support in making the decisions that are right for them. To make sure you have the knowledge and skills to support your clients, you'll have a comprehensive curriculum, together with a mentor and a global network of peers who'll join you on your journey. The modules included in the Lactation Counselor Training program are:
Communication skills
Lactation physiology
Counseling skills
Business of birth
You can read more about each of the modules covered in your lactation counselor training and find out about the topics included together with the competencies you'll build in each lesson by clicking on any module in the above list.
Becoming a Lactation Specialist – Easy Guide
BFC, IBCLC, LC, CBC, CLC… Confused about the differences?
One of the most common questions we are asked about CBI's Lactation Counselor course is the difference between a Lactation or Breastfeeding Counselor, a Breastfeeding Educator, and a Lactation Consultant. To help untangle the alphabet soup of lactation specialist options, read our blog post that explains the differences and why different training organizations use different letters to represent their training and certification programs.
We also offer a short course (2-3 hours) for you to explore the different options available for becoming a lactation specialist and the career opportunities available. The course is available on a 'pay what you can' basis ($5-$25) to ensure it is accessible to as many people as possible.
Read about the Becoming a Lactation Professional mini-course
Becoming an IBCLC Lactation Consultant
Many people aspire to become recognized as an IBCLC but are unsure what the pathways mean, how to achieve the different requirements, and what education is required. Our Becoming a Lactation professional mini-course explains the IBCLC pathways and outlines the steps required to be accredited as an IBCLC and the different options for achieving them.
Read about the Becoming a Lactation Professional mini-course
If you're pursuing IBCLC accreditation, you might be interested in our Safety and Infection Control and Prevention course. This 9.2-hour professional development course meets the health science requirements for a course in universal precautions and infection control.