Thinking about switching careers and becoming a birth doula? Unsure whether to take the leap? This four-part series asks seven awesome doulas to tell us how they switched careers to become a birth doula. They talk about the ins and outs of the job, and how they feel about working as a birth doula. In the second post of this series, we ask them about the realities of doula work.
If you've already made the decision to become a birth doula, check out our Becoming a Birth Doula Guide. This FREE guide will walk you through the steps to start your new career.
What do you usually do as a doula?
It begins with listening to a potential client's thoughts and concerns about their pregnancy journey and upcoming birth. I always try to impart some useful tips or information, perhaps a referral for additional support. This means that even if we don't work together, they can have something helpful to take with them. If we do agree to work together, I educate and inform, based on their needs. I encourage the birthing person and their partner to develop a care plan that includes their emotional and communication needs for their providers.
During the on-call time, I stay in contact and answer questions, reassure any anxieties, and help them build trust in their body sensations that will help us identify when labor begins together. Once I join them, support is often first emotional, then physical in various ways throughout the process. I present myself to all the medical team members and work as a liaison to ensure my clients always understand what is happening and are at the center of all decisions.
Exie, Michigan USA
I listen, teach, encourage and share tools for clients to advocate on their own behalf. My doula works cross into some of my other work and so I also support and hold ceremonies for people for preconception, pregnancy loss, abortion, postpartum care, and for many of the transitional periods that humans encounter. I offer resources and connect with other birth attendants.
Tintawi, New Mexico USA
I provide informational, practical, and emotional support to clients during their pregnancy, birth, and the first six weeks postpartum. More recently, I have been working on advocacy. I work with community partners to encourage policy and procedural changes that improve birth outcomes in my community.
Feven, Bermuda
A lot of my work involves cultural mediation, as I work almost exclusively with expat parents (or mixed Korean-expat couples). Aside from "classical" doula work involving various forms of physical and emotional support, I help my clients communicate with their chosen medical providers before and during birth, bridging cultural gaps as needed (e.g. around vocalization or nakedness, which are frowned upon in Korean culture). Even postpartum, I am often asked to help my clients find a trusted pediatrician or lactation professional and sometimes accompany them to their first visit to help them navigate the medical system.
Adele, South Korea
I'm based in Athens and work with families in Greece, but also abroad, during both the pre and postnatal period. Prenatally, I offer group and one-on-one workshops designed to help prepare families for postpartum (including infant feeding). Some are targeted at the birthing person, some primarily at partners (with a focus on their role and transition), and others at the couple (when there are dual partner families) and their transition into parenthood. A big part of what I do is at-home postpartum infant feeding support, one-on-one tailored postpartum support, and a six-week postpartum support group program targeted specifically to birthing people with babies aged 0-12 months.
Xenia, Greece
There are so many different things that a doula can do and so many roles that can be filled. However, what I feel like I do most is provide emotional support. A huge part of the work is helping clients sort through their choices and explore information. Even through this, I find that I am called on most to be a reassuring and positive presence with clients.
Carmen, Michigan USA
I started out working with any family but quickly focused my support. Now I support 2SLGBTQIA+ families and families who have experienced infertility, miscarriage, stillbirth, and infant loss. My clients typically have intense support needs and I spend a considerable amount of time texting or messaging with them about what they're feeling, what they might expect in the next stage of pregnancy, and working on affirmations and self-care. My support is heavily focused on the prenatal period from when my clients find out they're pregnant (sometimes even from ovulation!). When working with them, I emphasize goal planning, setting expectations and boundaries, and education.
Johanna, Ontario Canada
What's it like being on call?
It was more logistically challenging when my kids were young and in school. Heading into my 18th year, it is less so, especially since we are accustomed to always having a backup plan and a backup to the backup plan. I've learned not to sweat it if there's a social engagement during that time – although I avoid doing things like buying theater tickets when I know I'll be on call.
Exie, Michigan USA
Being on call is exciting, invigorating, challenging, and can sometimes be tough without having a backup. I have missed some moments with my family and had to navigate illnesses and challenges among my loved ones.
Tintawi, New Mexico USA
It can be exhilarating and challenging at the same time. It requires flexibility and a support network that understands the nature of my work.
Feven, Bermuda
After almost ten years of being a doula, being on call is still somewhat stressful, as I have no backup. It's getting much easier now that my children are older and I am looking forward to taking on more clients, provided regulations around hospital access relax again (most places still only allow one support person at this time, "because COVID").
Adele, South Korea
I do not currently work on call, nor have I in the past.
Xenia, Greece
This is probably the thing that I have always struggled most with. I don't always do well with an unpredictable schedule, and that is exactly what being on call is, unpredictable. Over the years this has been something that I have had to work on a lot to make it easier for my family and me. In the end, I felt the right thing for me was to limit the amount of on-call work I do. I now focus mostly on scheduled work because that was the right thing for me.
Carmen, Michigan USA
It can be a lot! I started birth work when I was child-free which offered more freedom and flexibility. Once my child was born, I worked hard to ensure there was an adequate balance of resting and family time once my child was born, so everyone's needs were met. One thing to recognize is that you'll probably miss some family dinners, gatherings, or parties. Being clear with your family about when you'll have uninterrupted time can help manage that.
Johanna, Ontario Canada
What's it like working as a birth doula at night?
I'm a chronic insomniac, so I can manage sleep deprivation fairly well. I dress in layers and bring a blanket and rechargeable hand warmers since body temps drop at night, and hospitals are cold.
Exie, Michigan USA
Holy… sacred… intense. To work while people around you sleep is powerful.
Tintawi, New Mexico USA
It can be challenging if I haven't had enough lead time and havent taken the time to rest during the day.
Feven, Bermuda
I personally don't have a problem with that — adrenaline wakes me up fine! More concerning is driving back home when I'm tired. I keep reminding myself that I can take a nap in the car before getting started (most hospitals my clients birth at are at least 30 minutes away, often about an hour), but the desire to take a shower and put my feet up usually prevails.
Adele, South Korea
I do not offer overnight support, nor do I support birth clients through the night. This is a boundary that I needed to define in order to make my professional work 'work' for my family and me.
Xenia, Greece
I don't mind working at night. I am a night person so being up at night while everyone else is quiet is something that works for me. Since I don't mind night work I have overscheduled overnights with postpartum clients at times. So it has been important for me to be aware of this and make sure I am caring for myself and being more realistic about what will work in the long term.
Carmen, Michigan USA
I'm a night owl and found this part a lot easier than waking up really early to go to an early morning birth. It's helpful to ensure you're getting enough protein, carbs, and hydration without going too hard on the sweets and caffeine so you can still get to sleep when you're done!
Johanna, Ontario Canada
What's it like working as a birth doula and going into the hospital for the first time?
It can be exciting and a little intimidating. I've learned to always make sure I know my client's room number if I am joining them after they were admitted. Each hospital is a little different (we have over a dozen in our community) so I always run a mental review of where to park, enter, and what floor it is located, as well as what kind of security I'll have to face (some have gated parking, metal detectors, and X-ray machines for bags).
Exie, Michigan USA
I highly recommend that the first time you go to the hospital be before the birth or the beginning of postpartum work. Building a rapport with Labor and delivery ahead of time can help make things run smoother during the birth and in the postpartum period.
Tintawi, New Mexico USA
I liken my first time working at the hospital to the first day of school!
Feven, Bermuda
I am actually very comfortable with that. I usually visit the hospital (at least) once with my client during a prenatal appointment to properly introduce myself and explain my role, and although I don't get to meet the L&D staff at this time (because COVID), my presence is noted on the chart, and I find most providers are actually quite relieved to have someone who can help translate.
Adele, South Korea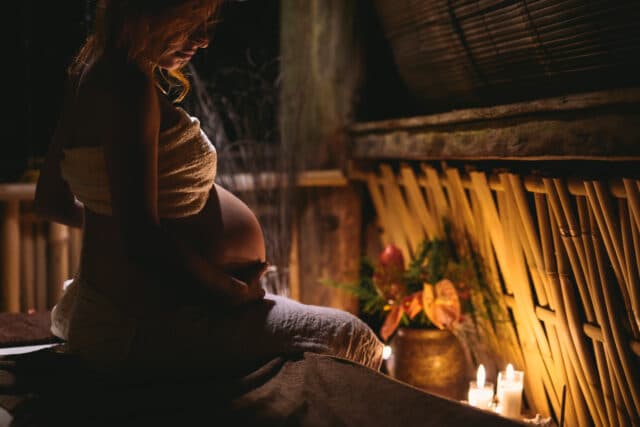 What's it like working as a birth doula at night?
Holy… sacred… intense. To work while people around you sleep is powerful.
In a country (Greece) where doula work continues to be overlooked and underappreciated, it has felt like a privilege for me personally to be received in a hospital setting by medical professionals who acknowledged me as a key member of their client's postpartum and lactation support team.
Xenia, Greece
I felt very mixed emotions. There was a lot of excitement and also a lot of nervousness. This has lessened a lot over the years, but if I'm honest, these emotions are still there a little bit with every birth.
Carmen, Michigan USA
I found it nerve-wracking as someone who hasn't spent a lot of time in hospitals, but it fades as you spend more time there and get to know the ins and outs of hospital life. When you're there with clients, try and be kind and supportive of the nursing staff, doctors, and midwives and it helps things go more smoothly!
Johanna, Ontario Canada
How many times do you see a client when you're working with them?
At least 4 times before the birth and 1 time after.
Exie, Michigan USA
Initial interview, at least three prenatal, the birth, and at least 2/3 postpartum visits. I usually go over this in visits.
Tintawi, New Mexico USA
Five times – three prenatal and two postnatal
Feven, Bermuda
At least twice before the birth, then in labor, then at least once afterward.
Adele, South Korea
The frequency at which I will see a client depends on what they have come to me for. If I am supporting a client in my role as a lactation counselor, I may see them once or twice before their baby's arrival (or not at all if they call me for the first time once they are facing challenges) and two or three times postpartum. I am working with a family as a postpartum doula, we may agree that I visit them for three or four mornings a week (2 to 3 hours each morning) for 6 to 8 weeks.
Xenia, Greece
My base birth package includes two prenatal meetings, the birth, and two postpartum meetings.
Carmen, Michigan USA
I work with clients who have experienced previous losses or fertility struggles so I will often meet with clients around 6-15 times prenatally and 5-10 times postpartum. When I'm working with an average client, I typically meet 2-3 times prenatally and 1-2 times postpartum.
Johanna, Ontario Canada